Biotouch International Beauty Academy
Biotouch was founded in 1980 in California, USA.  Now, Biotouch is one of the leading manufacturers of PMU and semi-permanent makeup products such as permanent makeup pigments, permanent makeup machines, permanent makeup needles, skincare, aftercare products, and other accessories.  Biotouch products are now sold in 77 countries and territories worldwide.
Biotouch stresses ongoing research and development by introducing new technologies in product manufacturing, and by inventing new categories of skincare and pigments. This helps ensures that the technician gets the most superior quality and safest product available.   With nearly 40 years of experience, Biotouch complete system designed for permanent makeup ensures that the technician gets the best and most consistent results each and every time.  
The Biotouch Training Program has become known internationally as the finest available.  Indeed, Biotouch has trained over 100,000 technicians worldwide, and even our competitors come to us to learn how to do it the right way.
Biotouch Thailand was established in 2013 in order to provide technicians in South East Asia with the necessary skills to advance in their careers.  We not only cover techniques, but we focus heavily on product knowledge, usage, and safety. Three year later we had expanded our realms to Manila, Philippines.
Besides teaching courses, we provide our clients with PMU services as well, may it be eyebrows, lips, eyeliner, waxing, BB glow facial treatments or eyelash extensions!
With Biotouch, anyone can wake up beautiful!
Why you should choose Biotouch?
We are expertise in teaching permanent makeup for over 30 years

Biotouch provides a formal education through our state of the art facility

Biotouch meets all requirements with the Los Angeles County Public Health Department

We guide technicians through the process to apply for Body Art Practitioner Registration and Facility Health Permit

Covered by safety product liability insurance

Provides certificates of sterilization as proof of sterile needles safety products indicate lot # and expiration date for protection

CE approved machines

FDA approved pigment ingredients for cosmetics use

Biotouch pigments are made in the USA

The highest success rate for pigment retention

High ranking instructors teaching the most updated skills

Raised hundreds of thousands of successful technicians

Facilities around the World
Biotouch Permanent Makeup Practitioners

Year of Opening in Thailand
Safety Measures at Biotouch International Beauty Institute
At Biotouch …. Safety is our first priority !!!!
Biotouch Institute (Thailand) has implemented a measure of safety and health in our institute and preparation before opening our institute so all customers can be confident that we are safe from viruses and bacteria.

At our institution there are practical measures for receiving services, buy products and teach courses in strict accordance with the government policy to prepare before opening the store and give every customer the assurance that the academy is safe and free from viruses! 
# Biotouch emphasizes on …
Beauty that always has to come with safety and health.
We want to see all of our customers and students healthy.
Biotouch Post-Lockdown Health Precautions
In the past weeks, the institute has established measures for the team of instructors and all employees to be trained in multiple safety courses one of them is the standard safety course of work related to blood and secretions from the body. Certified by OSHA, USA

As for the Covid-19 situation, that is happening today …
BioTouch Institute had provided the team of instructors and all staff, training courses regarding the safety of beauty institutes from leading institutions such as WHO, Barbicide and Milady 
The team has received certifications from:

🛡 Bloodborne Pathogens, USA course that complies with the Bloodborne Pathogens Standard of the USA Occupational Safety and Health Administration

🛡Prec Standard Precautions: Hand Hygiene – (Certified by WHO)

🛡 COVID-19: Operational Planning Guidelines
and Partners Platform – (Certified by WHO)

🛡 Barbicide Covid-19 Certification – (Certified by Barbicide)

🛡 Committed to health & safety: Infection Control – (Certified by Milady)
Biotouch Institute gave an interview about the implementation of the royal initiative in life and business. Including the educational information of the institute and the direction of the future in the permanent makeup business that is continuously growing!
Tida Wiwattada, the Managing Director of the Institute, gave a thorough interview with good advices for those who wants to start their career in PMU.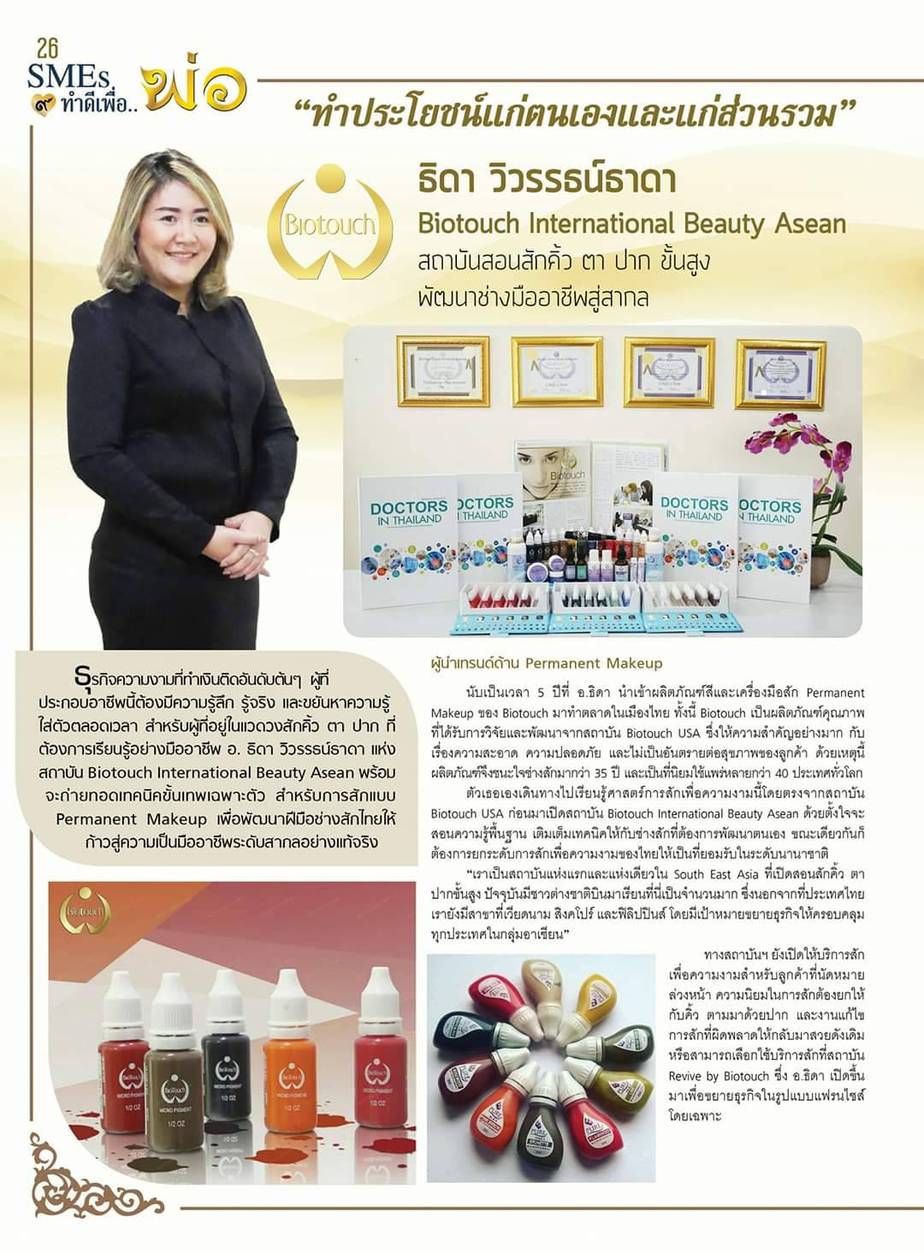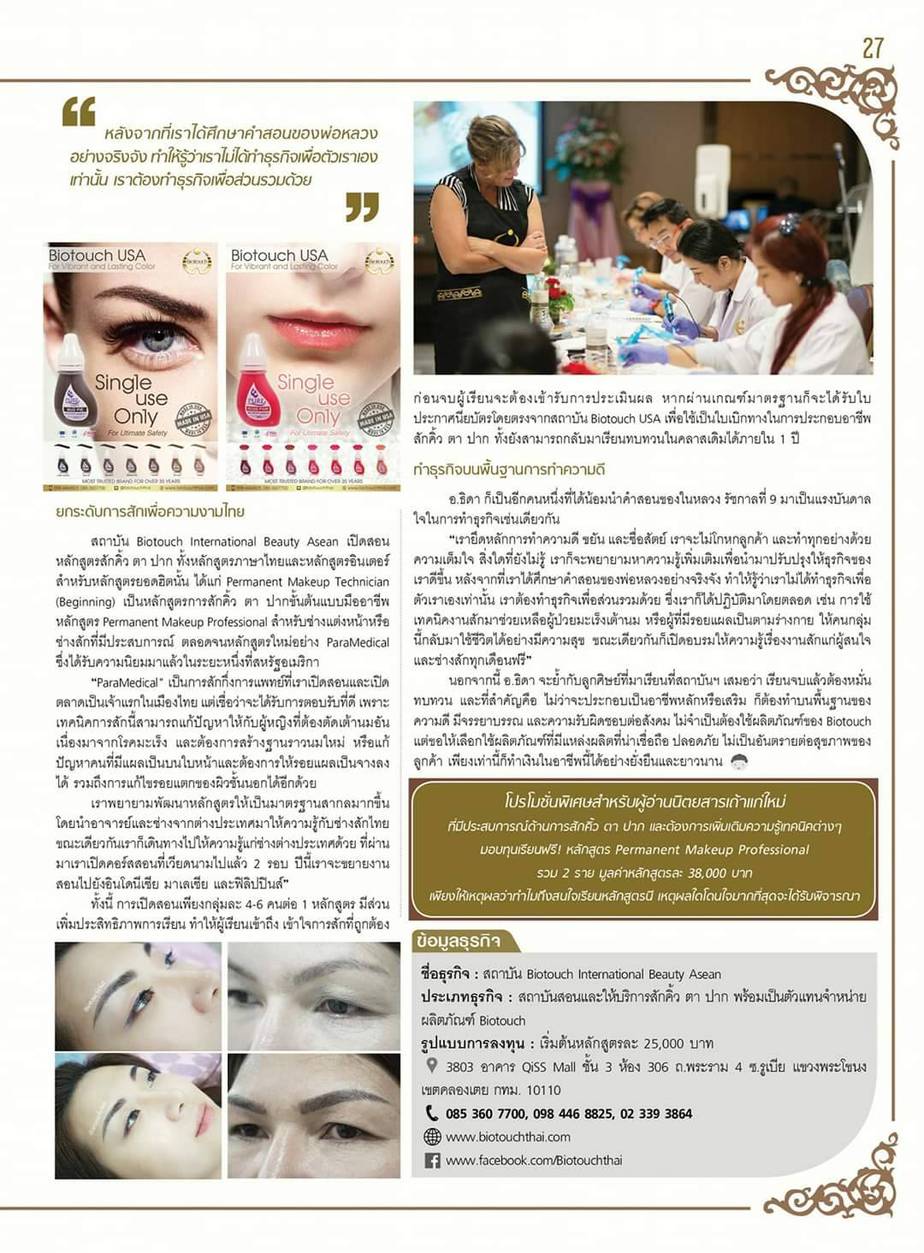 Safety is our Top Priority
Beauty must always come alongside safety! Master Tida the Managing Director of Biotouch International Beauty Institute and Mr. Thani the Brand Director of Biotouch in SEA both gave an interview with Thai PBS about safety measures concerning Permanent Makeup clinics and about its products and how important it is for this kind of career to use certified and verified products as in Pigments, anesthetics, Needles and machine.
We are Registered and Verified
DBD is the Department of Business Development. It is a Thai government agency which people doing businesses in Thailand have to deal with. 
DBD is responsible for regulating and enforcing these following laws
and much more! For more information click on the button provided below!
Biotouch Academy Thailand has expanded its realm in selling products and having authorized facilities in Bangkok, Philippines, Vietnam and Singapore. To this date more than 700.000 permanent makeup practitioners around the world have been professionally and successfully trained with Biotouch Methods. 
I am Tida Wiwattada and I am the Managing Director, a Certified PMU Instructor and Specialist!
I am Phouthon Phanyalin and I am working as a master instructor here at Biotouch Academy Thailand!
I am Apichart Siriew and I am the Master Instructor here at Biotouch Academy Thailand!
I am Cindy Chow and I am the Master Instructor at Biotouch Academy Thailand!
I am Pitchapat Nawarat Na Ayuttaya and I am the Master Instructor at Biotouch Academy Thailand!
Take a Closer Look at Our Academy
Biotouch Thailand is near..
Options to Biotouch Thailand.. From BTS Prakanong Train Station 11-12 minutes walk to Biotouch Thailand (950m from Biotouch Thailand only) From BTS Prakanong Train Station
Read More »
Options to get to Biotouch Thailand.. From the BTS skytrain station Ekkamai to Biotouch Thailand 11 minutes walk to Biotouch Thailand (900m to Biotouch Thailand
Read More »